"World Peace Summit in Seoul, Korea"
<![if !vml]>

<![endif]>
SEOUL -- Hundreds of political leaders from the globe gathered in Seoul this week to discuss peace on the Korean peninsula and in the world. During the four-day meeting, dubbed "2007 Peace Summit," some 400 participants from 130 countries vowed to join efforts to bring a permanent peace to the peninsula hit by North Korea's nuclear and missile tests last year.

In an address, Kwak Chung-hwan, chairman of the Interreligious and International Federation for World Peace, IIFWP, asked the political leaders to mobilize "all possible resources and tools" to resolve the issues of peace and development. The "Peace Summit" is part of the IIFWP's worldwide campaigns for making peace focused on the Middle East and Asia, organizers said. The IIFWP has also pushed for a series of projects in North Korea to promote peace and stability on the peninsula.
<![if !vml]>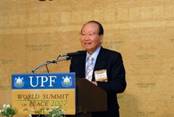 <![endif]>The Universal Peace Federation is developing rapidly as a leading movement for world peace. We can say confidently that it is building a world of lasting peace: one global family under God. That is, a world in which people of every race, religion, nationality and culture can live together in mutual respect, love, harmony and co-prosperity. The essence of our methodology is unselfish love, living for the sake of others.
We seek dialogue, reconciliation and cooperation. Peace is not achieved through struggle, opposition, polarization and division. A peacemaker is one who seeks to build bridges of dialogue and understanding.

We do not pursue peace simply from a political or military perspective, or human development from simply an economic perspective. Rather, to effectively address the critical issues of peace and development, we approach problems comprehensively, with all available resources and tools, and pay attention to all relevant factors: politics, government policies, governance, religion, education, culture, family, arts, sports, media, economics and business.
It is in this respect that the various associations of Ambassadors for Peace have something unique and essential to contribute, just like the players on a football team. Increasingly the world is taking notice of our work, our vision and methods, and the outcomes of our efforts.
(Dr. Chung Hwan Kwak, UPF Chairman's Address)
Weitere Informationen: Tel.: 0650/2588846; E-Mail: info@weltfriede.at